You cannot just take the paintbrush and start painting a concrete wall. Before the actual paint, you will need to prepare the wall for it. A concrete surface needs an initial coating because it has so many bumps on it. This makes the surface rough and you need to sort that out. Otherwise, your paint will look bad.
So later on, we will discuss the steps that you need to take to prepare the wall before painting it.
Things you need
However, first, you need to gather the materials. This includes;
Sandblast, surface cleaners, or using etching methods and of course, the paint. You can find all these materials from your local shop. However, when it comes to painting, you should better choose an eco-friendly one. Although the choice is yours, eco-friendly paints come with various benefits.
It might seem like it is for the benefit of the environment and it actually is but there are other perks. Chemical-based paints often contain chemicals that are not good for human health. Therefore, you will start to feel sick. So if you are interested in buying eco-friendly paint or other products like concrete etcher, coatings, sealers, etc, you can go to eco-safety.com.
They also have cleaners, paint strippers, stains, safety tape, and other products that you might need. In addition to this, they also guide you regarding eco-friendly materials and how they are beneficial to you. Furthermore, you can also read about the harmful chemicals present in other paints. This will make things easier for you to understand.
Coming back to our topic, which is preparing the wall. So after you are done collecting the materials you need, start working.
1. Cleaning the wall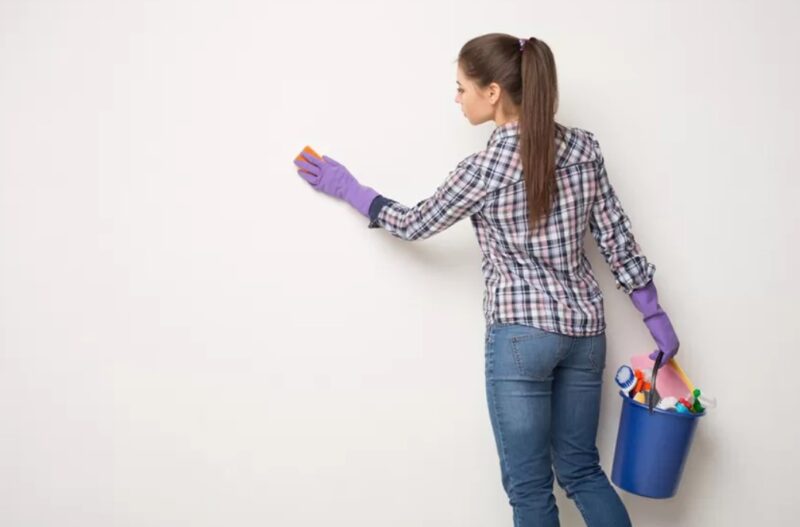 The concrete surface is naturally porous and therefore, there is a chance that it has accumulated lots of materials. If your concrete is freshly-dried and there is no chance of contamination, it will still have dust on it. In other cases, it can also have grease or moss, etc.
So the first step is to get rid of any contamination that will disturb you during the process. Even after you are done with the painting, the areas with pollution will affect the life of paints.
So here is what you have to do.
• Get a pre-paint cleaner or you can buy trisodium phosphate. It will remove all the grease and dirt from the surface.
• If the surface is old and has moss, you need to remove it too. You can do use by using the water pressure. So get a pressure washer, it will not only clean the surface moss but also the roots. It is important to ensure great pressure because otherwise, you will only clean the surface moss. The roots will still be there and they will grow back again.
• If you observe any whitish material on top of concrete, remove it too. This whitish powder is efflorescence and is common on moist concrete surfaces. You can get rid of this efflorescence by using masonry or phosphoric cleaners. And if there is very less whitish material, you can simply use an etcher.
2. Get rid of the existing paint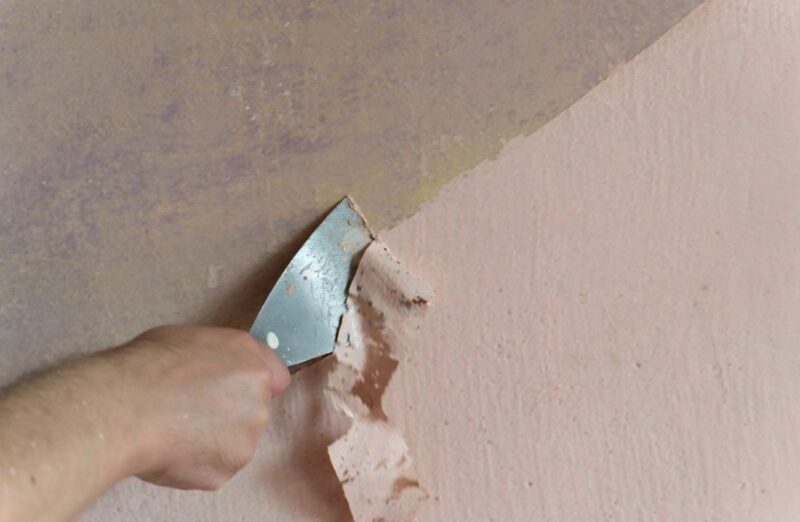 If you are planning to repaint an old wall, you need to get rid of the previous paint layer. Whether there is grease or dirt, you need to strip peel the previous paint. You can do so with the help of a wire brush or a paint scraper. In addition to this, you will also need elbow grease.
All these methods are for indoor walls. If you are repainting outdoor walls, you can simply use a power wash. It will do the job quickly in no time.
3. Create a sealing layer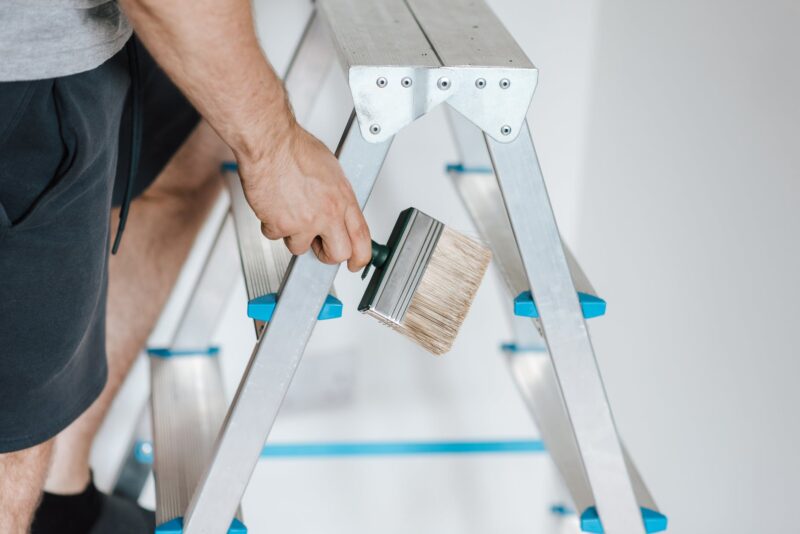 Exposed concrete is porous in nature and therefore, it will absorb water and moisture. Later on, this moisture will cause damage to the wall. Therefore, you will need a sealing layer to prevent moisture to get inside. Otherwise, you will need to suffer from mold growth and that damp feeling from the moist surface.
The best thing to use as a sealer is a masonry sealer. These sealants will block the entrance to moisture. Before using the sealant, you should read the instructions carefully. Some of them require double layers. You will need to mix the materials together, apply them and cure the sealer.
Furthermore, some of them require two layers, therefore, read the instructions carefully. Moreover, you will also need to check for how many days you need to put it on. Some sealants need to be used 5 days before while others need 7 days. After 5 or 7 days, you need to reapply for another coat. This layer will get rid of any cracks in your wall. Thus, makes the next steps easier.
4. Use primers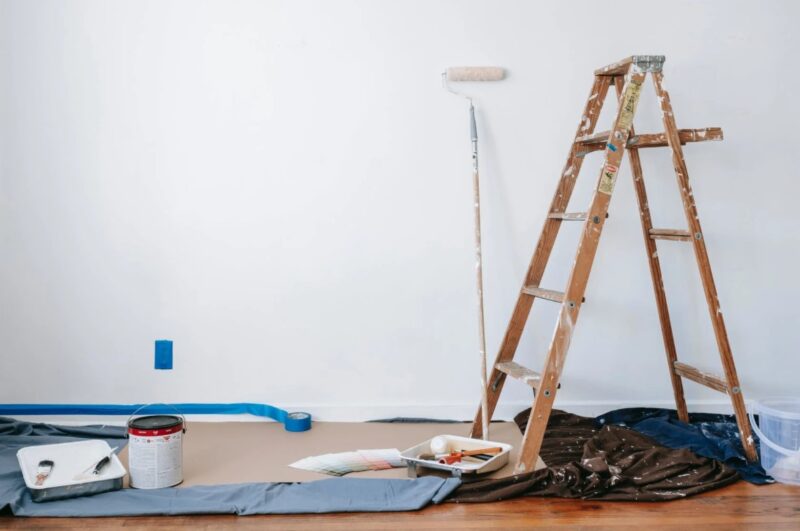 There are specific primers that you can get from the market. They are available with the name "Concrete primers". The main purpose of concrete primers is to fill the pores and make the wall smooth. This is the last step of preparation that you need to do.
The drying time of primers is usually 2 hours. So if you are using a primer, 2 to 4 hours would be enough. But still, to be safe from any miss-happening, just wait for 8 hours before your next step.
You can also wait for a longer time but make sure it does not exceed 30 days. After so many days, the primer won't remain as effective. Thus, there won't be any use of it.
5. Painting your walls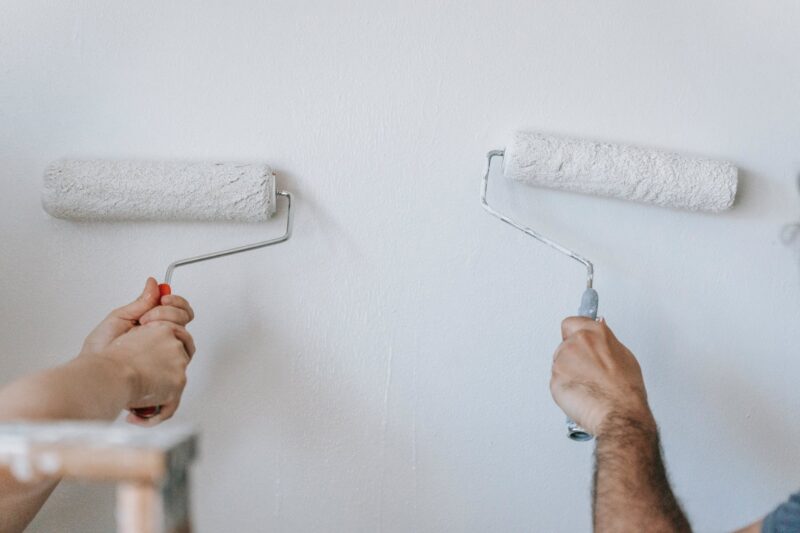 Although there are various paint types available in the market, but what's best for concrete walls is masonry paint. These paints have a special chemical formation that includes binders. Binders have a feature of expansion and contraction.
Thus, they will adjust themselves to the changing weather. So if your concrete walls are expanding or contracting, the paint will also. In addition to this, masonry paint is quite thick. Therefore, it will completely hide the wall.